Department of Neurobiology and Anatomy

Zeiss LSM 510 Confocal Microscope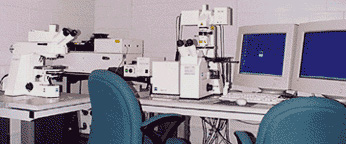 LSM 510:
Confocal microscopy with fully automated Zeiss Axioplan 2 (upright) and Axiovert (inverted) microscopes. Resolution up to 2048 x 2048, three simultaneous confocal channels, transmitted light channel with DIC, variable pin-hole for each channel, argon (458, 488 nm), HeNe (543), HeNe (633) lasers with AOTF control. User friendly software for single and Z-stack acquisition. Morphology, density measurements, FRAP, caged compounds 3D reconstruction.
Learn more about Zeiss here.


Objective List:
Fluar 10X/0.5

Plan-Neofluar 10X/0.30 WD 5.6

Fluar 20X/0.75 WD 0.66

Plan-Neofluar 20X/0.50 WD 2.0

Plan-Neofluar 40X/0.75 WD 0.5

Achroplan 40X/0.75 WD 0.6 Water Immersion

C-Apochromatic 63X/1.2 WD 0.24 Water
LSM 510 Image Browser:
The following files can be down loaded to run the Image Browser on your computer. The first file is an installation file for the Image Browser. The DAO file is used to install the necessary files for the LSM database to work properly. The DAO files are in a self extracting zip file. Store the files in a temporary folder, and then run the Setup.exe file. Contact Imaging Facility if you encounter difficulty.

LSM 510 Image Browser (Download)
DAO files (Download self extracting zip file)

Additional confocal information can be found by visiting the following links: